E-Gift card
Say yes to a perfect gift this Christmas. Give a gift of experience and avoid overthinking what the ideal gift would be. Our gift cards are the perfect gift for special men who deserve the luxury of made to measure. Let them enjoy the freedom of designing their clothes and the comfort of a flawless fit.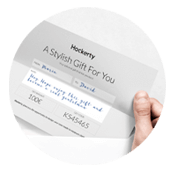 Print
Customize our printable gift card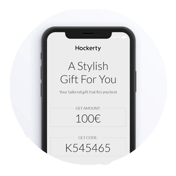 EMAIL
Quick, convenient and contactless
For Her
Pamper the special lady in your life with something just for her. Get her a feeling of luxury, comfort and freedom all wrapped in a gift card for women's made to measure clothing. Perfect gift that will please your wife, mother or sister.
About Hockerty
Founded in 2008, Hockerty is the e-commerce leader in tailored suits and tailored shirts, as we offer our customers complete freedom to design their own clothes by choosing from a wide range of styles and fabrics.